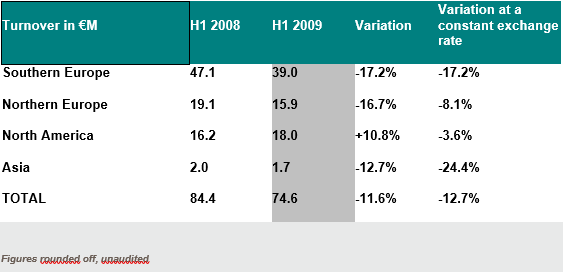 Business resilient
Linedata Services, a global supplier of financial services software, achieved revenues of €74.6 million in the first half of 2009. This represents a decrease of 11.6% compared with the same period of 2008, due mainly to exceptional billings in 2008 related to the new NOEE employee savings platform. Adjusted for these items, business volumes remained stable.
A robust business model
In an economic environment offering little visibility, business remained resilient, mainly thanks to recurring activities such as maintenance, monthly licences and ASP, which posted 9% revenue growth. They accounted for 66% of first-half revenues compared with 53% in the same period of 2008.
This helped offset a sharp decline in the Consulting business for software clients, which was badly affected by the effects of the financial crisis. Revenues from this business fell by 26% adjusted for the NOEE effect.
By contrast, the Group had some real successes with prospective clients, winning 46 new contracts. The most successful products during the period were the Beauchamp suite (21 contracts) and LongView (8 contracts), illustrating the merits of the Group's strategic choice of offering a full set of front-to-back-office solutions.
First-half performance by geographical area:
SOUTHERN EUROPE (Q1: €19.7 million, -13.5%; Q2: €19.3 million, -20.6%)
Revenues in Southern Europe amounted to €39 million, in line with expectations. Several factors helped offset the adverse baseline effect related to the NOEE migration in 2008: Growth in Leasing and Credit Finance (+2.3%); Strong recurring revenues in Asset Management.
Linedata Services continued its development and customisation work on the future version of its Master-i product, which led to additional costs during the period.
NORTHERN EUROPE (Q1: €7.8 million, -14.5%; Q2: €8.1 million, -18.8%)
The decline in revenues in this area, which was exacerbated by a highly adverse €/£ exchange rate, was mainly due to weak business levels with traditional funds.
Leveraging its strong innovation policy, Linedata Services won a major contract for the integrated Beauchamp/Linedata Compliance/Longview suite with a leading London-based financial institution.
NORTH AMERICA (Q1: €8.6 million, +4.3%; Q2: €9.3 million, +17.4%)
Revenues grew by 10.8% thanks mainly to sustained business in front office activities driven by the Longview application. Longview has just been named "Best Buy-Side OMS" by the prestigious magazine Waters for the second consecutive year.
ASIA (Q1: €0.8 million, +24.2%; Q2: €1.0 million, -29.5%)
Revenues fell slightly compared with the first half of 2008, which included perpetual licence revenue from a major Australian client.
Outlook
Despite the generally uncertain economic environment, the Group has had some promising commercial success. The rate of billings in the second half should be in line with that of the first half.
In addition, the Group is continuing its cost-cutting efforts and has set a target of improving its operating margin in 2009.
Next release: first-half 2009 results: 14 September 2009 after market close.
For further information, please contact:
Tel:
+33 (0)1 73 43 70 27
@
infofinances@linedata.com
Cap Value
Financial communication - Gilles Broquelet
Tel:
+33 (0)1 80 81 50 00