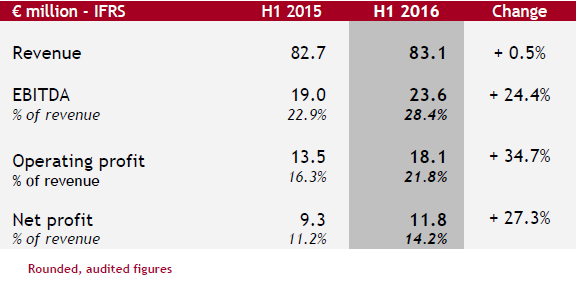 Neuilly-sur-Seine, 13 September 2016: Linedata (LIN:FP), the global solutions provider for the investment management and leading and leasing industries, announced first half results for 2016 characterised by significant profit growth.
The Linedata Group generated €83.1 M in revenues over the period, showing only a slight improvement of 0.5% compared with the first half of the previous financial year, due, in particular, to the adverse impact of the pound sterling exchange rate. On a like-for-like basis at constant exchange rates, the business's organic growth was 1.5%.
Consolidated half-year EBITDA was up 24.4% at €23.6 M. Half of this improvement in operating performance can be attributed to decreased external costs, the other half coming from decreased personnel expenses.
The EBITDA margin was 28.4%, an increase of 5.5 points compared with the first half of 2015.
Linedata maintained its R&D effort to support the deployment of its 2018 strategic plan, consistently with the previous financial year. These investments totalled €8.7 M, or 9.5% of half-year revenues.
ANALYSIS OF EBITDA MARGIN
By segment, EBITDA margin breaks down as follows:

In a highly competitive market environment, the Asset Management segment's revenues totalled €49.1 M, down slightly, by 1.3%, at current exchange rates and virtually stable (-0.6%) on a like-for-like basis at constant exchange rates. The segment's revenues for the first half included €0.4 M from the acquisition of the company Derivation in the United Kingdom in April 2016.
EBITDA, at €14.2 M, or 28.9% of revenues, was up 3.1 points compared with the first half of 2015, mainly due to a greater share of support and R&D services being performed at the Group's offshore sites.
The Lending & Leasing segment confirmed its return to growth thanks to good performance in the business's European markets, which offsets a decline in activity in the United States. The segment's revenues totalled €29.9 M, up 3.4% compared with 30 June 2015 (+5.1% at constant exchange rates).
The adjustment of direct costs to lower revenues in North America, combined with a good performance in Europe, generated EBITDA of €7.1 M, or a margin of 23.9% compared with 14.7% at 30 June 2015.
The Insurance business, which constitutes nearly the entire "Other activities" segment, generated €3.7 M of revenues during the first half of 2016, up 3.0% compared with the same period in 2015.
The segment's EBITDA totalled €2.3 M, up €0.4 M.
Significant increase in operating profit and net profit
Operating profit, including stable depreciation expenses compared with the previous financial year, totalled €18.1 M, up 34.7%. The operating margin was 21.8%, up 5.5 points.
Financial result amounted to -€2.1 M, compared with €0.4 M at 30 June 2015, primarily due to adverse foreign exchange impacts. It included -€0.9 M of cost of financial debt (virtually unchanged compared with the first half of 2015).
After a €4.1 M tax on profits (down -€0.4 M compared with the first half of 2015), net profit stood at €11.8 M, up significantly by 27.3%.
Substantial reduction in net debt
Thanks to good operating performance, and taking into account the acquisition of Derivation, Linedata's net debt is significantly down at €12.6 M compared with €18.0 M at 31 December 2015. Available cash totals €48.7 M compared with €38 M at the end of financial year 2015.
OUTLOOK
Linedata remains cautious about its revenue growth forecasts for full-year 2016 due to the delay in order intake since the beginning of the financial year.
The Group will pursue its medium-term strategy set out in its enterprise initiative "Linedata 2018″ presentation and will focus on:
-      growing the business and strengthening the customer relationships;
-      continuing its R&D investments;
-      continuing to incorporate new modules into its range of solutions (e.g.: Derivation).
Next communication: Publication of revenues for 3rd quarter of 2016 on 20 October 2016 after close of trading.
ABOUT LINEDATA
Linedata is a global solutions provider dedicated to the investment management and credit communities, with close to 1000 employees in 16 offices across the globe. Linedata has been at the service of the financial industry from day one, and applies its market and client insight to provide innovative and flexible mission-critical software and services that help its clients grow in over 50 countries. Headquartered in France, Linedata achieved revenues of €172.3 million in 2015. This company is listed on Euronext Paris compartment B FR0004156297-LIN – Reuters LDSV.LN – Bloomberg LIN:FP.
For further information, please contact:
Tel:
+33 (0)1 73 43 70 27
@
infofinances@linedata.com
Cap Value
Financial communication - Gilles Broquelet
Tel:
+33 (0)1 80 81 50 00