Neuilly-sur-Seine, 17 September 2014: Linedata (LIN:FP), the global solutions provider dedicated to the investment management and credit finance industries, announced an EBITDA of €17.7 million for the first half of 2014 and an increase of 6.6% in net profit.
The growth of the Credit and Finance segment, which benefited from the contribution of a full half-year of CapitalStream in North America, was not sufficient to offset the slowdown in Asset Management and Employee Savings. The latter was handicapped by a negative base effect.
During this period, the Group increased its product investments with increased Research and Development expenses.
Within this context, Linedata nevertheless succeeded in generating high levels of profitability with an EBITDA margin exceeding 23% and an improvement in net margin.
ANALYSIS OF EBITDA MARGIN BY REGION
By region, the EBITDA margin breaks down as follows: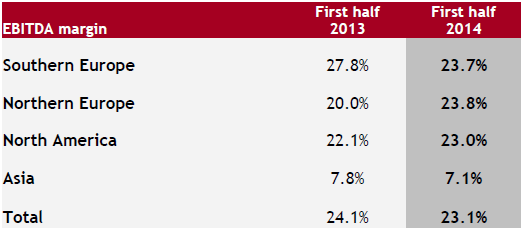 In Southern Europe, the EBITDA margin fell by 4.1 points. This reflects a drop in perpetual licences and the impact of the loss at the end of 2013 of a major Linedata NOEE customer.
The Northern Europe region improved its margin by 3.8 points to 23.8% in the first half of 2014 thanks to stronger activity in the United Kingdom.
In North America, the EBITDA margin increased by nearly one percentage point thanks to improved profitability within the CapitalStream business.
Overall, Group EBITDA was €17.7 million in the first half of 2014, down 5.9% compared with the first half of 2013. The EBITDA margin stood at 23.1% of revenue.
Improved net profit
Operating profit, which benefited from the positive effect of the write-back of provisions totalling €0.4 million, showed a more limited decrease (-4.1%). Operating margin was 16.7%.
With a stable financial result of €1 million, and a €1 million decline in income taxes, net profit was €7.7 million at 30 June 2014, that is a 6.6% increase compared with the first half of 2013.
FINANCIAL STRUCTURE
Equity amounted to €88.0 million at 30 June 2014, down €5.3 million compared with the end of 2013. This decrease is due in particular to the repurchase of own shares in the first half of the year to serve the free share allocation plans voted by the Shareholders' General Meeting.
Net debt amounted to €45.8 million at the end of June 2014, that is 1.1 times 2013 EBITDA.
OUTLOOK:
During the second half of the year, Linedata will continue its efforts to deploy its solutions globally across its two strategic markets, asset management and credit finance.
The Group expects the launch of new versions of its Linedata Longview, Linedata Capitalstream and Linedata Ekip 360 solutions will accelerate bookings in the second half of the year. As a consequence, Linedata is targeting 2014 revenue close to that of 2013, with an EBITDA margin slightly down compared with 2013.
Next communication: revenue for the third quarter of 2014, on 22 October 2014 after close of trading.
ABOUT LINEDATA
Linedata is a global solutions provider dedicated to the investment management and credit communities, with close to 1000 employees in 15 offices across the globe. Linedata has been at the service of the financial industry from day one, and applies its market and client insight to provide innovative and flexible mission-critical software and services that help its clients grow in over 50 countries. Headquartered in France, Linedata achieved revenues of EUR 160.3 million in 2013. This company is listed on Euronext Paris compartment B FR0004156297-LIN – Reuters LDSV.LN – Bloomberg LIN:FP.
For further information, please contact:
Tel:
+33 (0)1 73 43 70 27
@
infofinances@linedata.com
Cap Value
Financial communication - Gilles Broquelet
Tel:
+33 (0)1 80 81 50 00