Rethink your NAV production and fund accounting operations now to enhance back-office performance
The COVID-19 crisis has seen substantial changes in working arrangements across the world. The asset management industry – while no stranger to crises and well placed to ride out the storm and thrive as conditions improve – has not been immune. The combination of higher trading volumes and remote workforces has strained back offices, many of which already struggled to cope with smaller workforces, aging technology, demands for greater data integration, and stricter regulatory and reporting requirements.
While NAV production firms as a rule have robust business continuity plans, these were never designed for a scenario where the entire industry would be required to enter disaster recovery mode with no clear time horizon or geographical bounds. Most plans have held together and accurate valuations have been published on time, despite complications such as those outlined in this article from global law firm Allen & Overy around open-ended real-estate funds.
However, firms would be wise to avoid complacency, regardless of how well they've performed in the short term. Investing in technology, automation – and people – is critical.
Home working – here to stay
The longer-term effects of decentralized workforces may yet materialize, particularly if firms fail to evolve their processes and technology to accommodate the demands of our new reality. While it does look like the crisis has passed, increased home working is here to stay. Whether to attract or retain talent or reduce office space costs and other overhead, NAV production companies will need to offer greater flexibility when it comes to working arrangements. This new paradigm will require a change in how operations and teams are managed.
NAV production and fund accounting in general have been marked by complex systems and complicated processes. Although varying levels of back-office automation have been achieved, manual checks remain common. Operations managers must coordinate the individual efforts of different staff members and teams throughout the day – often without adequate information or clear process tracking. The traditional office environment has offered efficiencies of physical proximity, which facilitated verbal and paper-based information sharing. These "efficiencies" in many cases papered over the cracks of poor workflow management and inefficient operational practices.
The new working environment, whether characterized by full-time or part-time remote access, can no longer rely on these old, outdated practices. The need to adapt, quickly and successfully, is forcing firms to take a digitized view of the production process. Efficiency and automation will be critical to maintaining accurate, on-time NAV delivery, and to control costs.
The need for global coordination
A dispersed workforce can work very efficiently, but only if everyone is working on the same real-time set of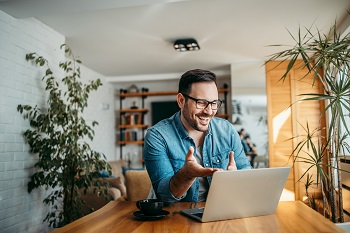 data and information. Moving forward, operations managers will need to be able to view the status and NAV production progress of all their funds in real time, identifying warning signs before they become major issues. With reduced staffing and remote workforces, leaders must be able to constantly monitor team workloads and reallocate tasks accordingly. Firms will want to adopt exception-based models, where NAV production progresses automatically until issues arise or human sign-offs are required, replacing the need for manual checks, and freeing up staff for higher-value activities.
Individual contributors will need a clear picture of their workload, the ability to escalate issues quickly, regardless of location, and guidance on how to resolve any problems that arise, with clear audit trails. They will need standard, pre-defined workflows to resolve exceptions, without the need to ask colleagues or refer to (paper-based) handbooks or checklists. Teams will need to communicate and cooperate online and update their work and changes for immediate review, validation, and consumption by other members regardless of their location.
Fund administration hubs
By definition, fund accounting operations involve massive core applications, complex dataflows, and reams of reporting. Forward-thinking firms are implementing 'fund administration hubs' – web-based tools providing dashboards, exception-based workflow management, intuitive user interfaces, and deeper data insights. Information feeds automatically between all systems, so changes made, and tasks executed from each user interface directly update the underlying accounting data. Data visualization, clear audit trails, and robust investor and regulatory reporting are critical, particularly as regulators have already signaled that they will redouble their oversight requirements as the pandemic eases. 
As ever, a crisis can provide the opportunity for firms to distinguish themselves in the eyes of employees and clients alike. Analysts including PWC and McKinsey have published recommendations on how firms can emerge as stronger organizations, despite the stresses they have faced. Good communication, consideration of the human element, and intelligent use of technology are all critical success factors.
Technology AND people
COVID-19 has changed the way we work – probably forever. Technology has been key to sustaining operations, but people remain crucial to the success of any organization. Empowering employees to perform under difficult and uncertain circumstances, while creating a 'digital workforce' based on task automation is the way of the future.
A revised working model that leverages new technology and flexible working arrangements whilst improving efficiencies and client service could be a surprisingly positive post-pandemic outcome for firms that choose to act now.
About the author, Michael Galvin
Michael Galvin is Global Product Manager for Linedata's fund accounting platforms. With 25 years in the industry, he has led the development of core applications, surround technology, and process management solutions for fund administration and investment management firms. Michael began his career as a fund accountant at JPMorgan Chase.
Rethink your NAV production and fund accounting operations
Transform your back-office operations and achieve operational excellence with our award-winning fund accounting, transfer agency, and NAV oversight and contingency offering. With over 20 years supporting leading asset managers, third-party administrators, and other buy-side firms, we offer solutions based on the best in technology, services, and human expertise.