What if you could have a forward-looking process to
analyze your operational data and predict errors before they happen?
Is your firm using the right tools to fix operational issues? Clients mention common challenges like manual workflows and data inconsistencies across multiple systems that do not communicate well or produce aligned results. This can result in costly errors – errors which typically come to light only after they've occurred.
But what if you could have a forward-looking process to analyze your operational data with predictive analytics for trade operations to correct errors before they happen?
With a blend of machine learning and analytical tools, Linedata Analytics Service (LAS) gives COOs, traders, analysts and operations managers the analytical tools and insights to predict when and where errors will occur — to prevent operational errors and improve processes, increasing your bottom line.
More training doesn't eliminate errors. Leverage predictive analytics for trade operations.
If you've spent time, energy, and resources to improve operational processes, it can be frustrating when errors still pop up. All too often firms hire top talent, train them well, and establish detailed processes, but they still experience costly issues month after month. When reviewing the errors in oversight meetings, operational leaders are left wondering, "Why are these errors still happening"?
The reality is, even if you've gone to great lengths to eliminate errors, it's virtually impossible to accomplish this without the right tools. To get the best results, firms must combine human expertise with AI tools to analyze relevant internal and external data to produce actionable insights. These capabilities empower your team to prevent operational errors before they occur.
Solve the challenges of failed trades with Linedata Trade Analytics.
Using technology and people to make better decisions. AI for Capital Markets.
When firms review operational issues that cost them time and money, increase risks or even damage their reputation, it's natural to try to find the root of the problem. Was it a systems related error, a human error, or a combination? Unfortunately, there is only so much you can discover with a manual review process.
So how can firms use AI and ML as tools to produce better decisions and outcomes? Assuming you have a relevant dataset, Linedata Analytics Service can predict — with a very high degree of certainty — the probability of certain operational errors occurring in the future. AI for capital markets - our data models draw from a combination of client and external data including market and other alternative data, to assess historical patterns and provide easy-to-digest predictive intelligence. The result? Your team is alerted to potential operational risks in real-time.
Essentially, you can log into your Analytics dashboard anytime, and, based on the models' analysis of your operational data, we'll alert you of upcoming transactions and events that have a high probability of triggering an error. You can then make decisions based on what is going to happen, not simply view events in the rearview mirror.
And not only does Linedata Analytics Service anticipate future errors, but it also helps you understand why certain issues reoccur. We can also assist with recommendations for structural changes to reduce costs and risks.
Plus, Linedata Analytics is a constantly evolving Service where we continually refine our offering to adapt to your evolving business and changes in the regulatory landscape.
For instance, if Settlement Discipline Regime (SDR) regulation for accurate and timely trade settlement comes to the U.S. (as it already has in Europe), Linedata Analytics Service can factor those regulatory changes into your data models, so you can easily adhere to the new statutes. And with the SEC announcing proposals to shorten the settlement cycle to T+1, our Service can help your operational teams, portfolio managers, and trading desks seamlessly adapt to the accelerated settlement window. No matter what changes emerge in the market or in your business, you'll never be unprepared.
Predictive analytics for investment operations. Areas to target:
With Linedata Analytics Service, you can look at massive datasets objectively to detect patterns invisible to human observers. This human + machine solution can identify and prevent a variety of trade and compliance issues, as well as other operational issues of front, middle and back office operations, including:
Compliance Breaches
Cash Projections
Pricing and Other Data Alerts
Predictive Loan Analytics
Predictive NAV Intelligence
As insights from Linedata Analytics Service influences your business decisions, you can begin to see improvements such as a reduction in trade and compliance process failures, or a lowering of portfolio liquidity risks. The results of these predictive analytics for trade operations have the potential to generate operational alpha. The best part? These improvements tend to create a permanent increase in your bottom line.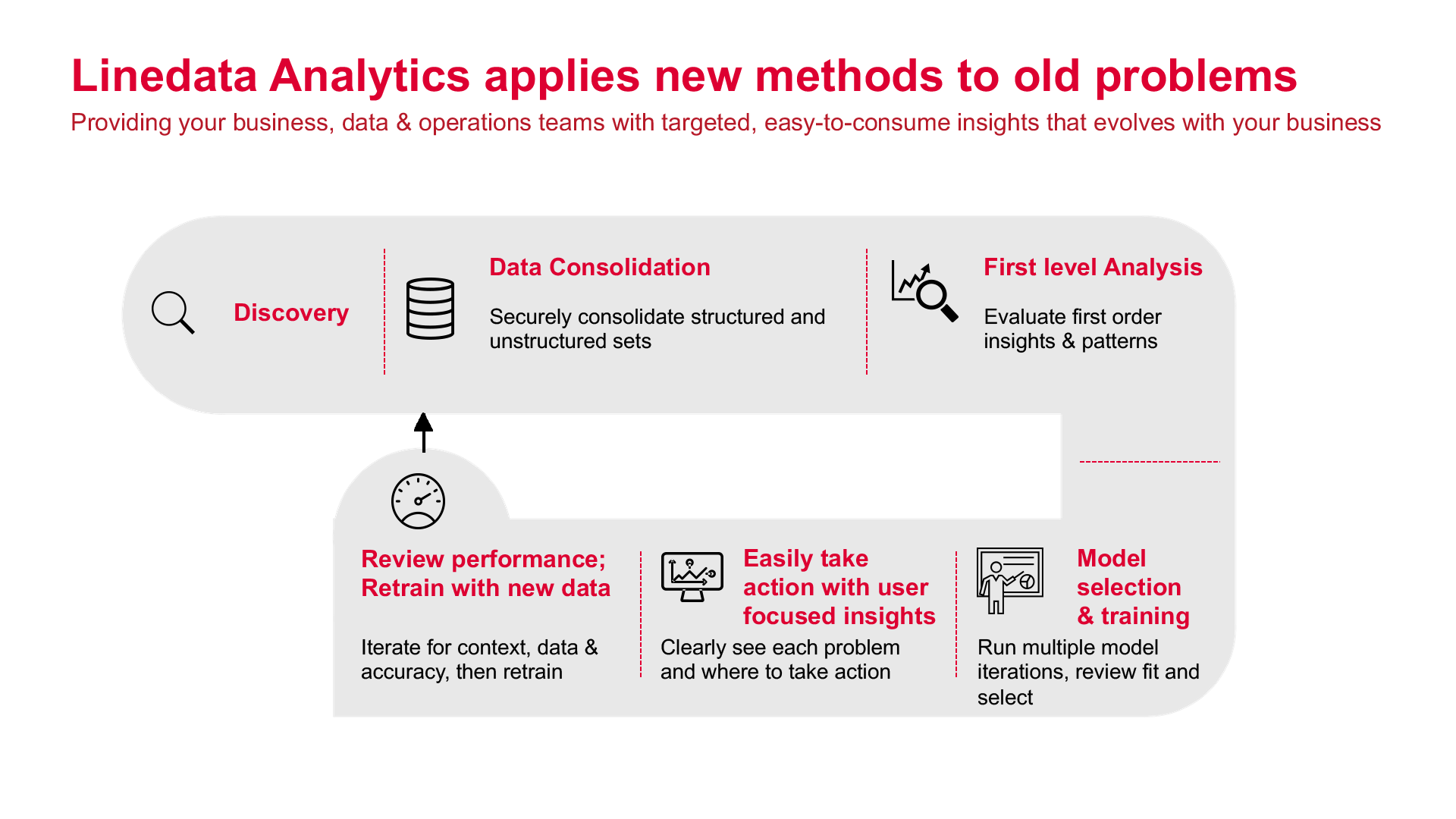 Results that are easy to see
When improvements are made, it's not always simple to showcase those results to other stakeholders in the organization. But that's not the case with Linedata Analytics. The Service provides an intuitive front end that clearly identifies issues. These easy-to-see dashboards also help to illustrate the value of Linedata Analytics Service to the executive team — thus eliminating a major hurdle to starting a new initiative. The Service provides the data and notifications that enable better, more informed decision-making. Clear, compelling insights also make it easier to evolve processes, improve efficiency, and use advanced technology to leverage your current teams as your business grows without adding additional staff.
Get started with LAS
As AI moves into the mainstream, it can be tempting to rely on these technologies alone for process improvements. However, the best results are realized when these incredibly useful analytical tools and insights are put in the right hands. Your team is the irreplaceable component that takes action and executes on data-driven insights. This is the combination that produces needle-moving results for your firm.
About the author, Ashmita Gupta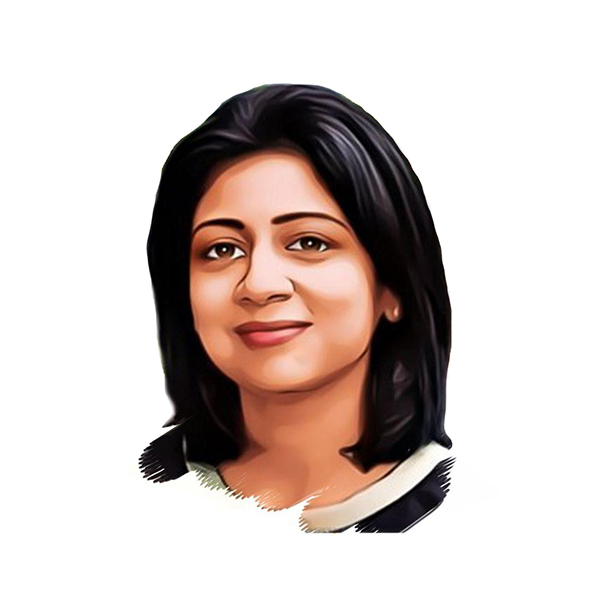 Ashmita Gupta is a SVP and Chartered Financial Analyst (CFA) who heads Linedata's Business Intelligence & Analytics Service. She is passionate about helping clients solve operational problems and open up their teams to innovation, tapping into their data with AI/ML insights.