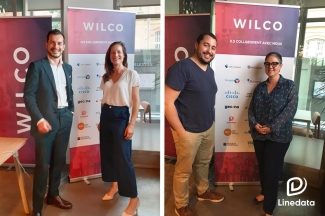 Several of Linedata employees participated last year in the mentoring program in partnership with WILCO, innovation accelerator. Each Linedata mentor has accompanied a startup over several months on a challenge in line with their field of expertise.
Six months after the end of this mentoring program, two pairs of mentor x startup were interviewed to share their feedbacks.
• Amandine Aury, Human Resources Director at Linedata X Lucas Quinonero, Co-founder and CEO at Mobeelity
Topic: Employer brand and social performance as an economic lever.
Lucas: "With Amandine, we have worked for 6 months on our corporate culture, our values, and our onboarding and management methods. We have been able to clarify and justify our values and their implementation to our teams, clients and partners. Since the end of the mentorship, we have recruited two people and hope to recruit eight more before the end of 2023. I was very happy to meet Amandine who has always been attentive and available to give me her advice."
Amandine: "This experience was very rewarding. I really enjoyed sharing and being able to contribute to Mobeelity's thinking to grow. Lucas was curious and very committed to the process. I am delighted to have been able to give him some keys to prepare for the future and thank him for trusting me. This is a great opportunity to participate in an entrepreneurial adventure. I wish long life and prosperity to Mobeelity!"
• Aurélia Szymanski, Communications Director at Linedata x Anthony Tabuyo Co-founder and CEO at Urgentime
Topic: Attractiveness and visibility of the offer on the website and social media.
Anthony: "I'm super proud of what we've achieved together, the changes it's created in the startup, and for me more directly, from a more personal point of view. I didn't like communication nor my website, and now I'm starting to enjoy it. What you have brought me is much more than a new skin and a social media template. It's inspiration, it's a taste for sharing. Humanly speaking, it has always been great to discuss together, you have been tolerant with us, guided us slowly without judgment. It was reassuring."
Aurélia: "It was exciting to help the founder of the startup Urgentime to highlight his offer on the web and develop visibility on social media. I loved associating several members of the communication team, it gave a collective touch to mentoring. The results were there: Urgentime has won new business opportunities and is entering a new phase of its development. Anthony is very friendly, which added a lot of fun when collaborating for three months."