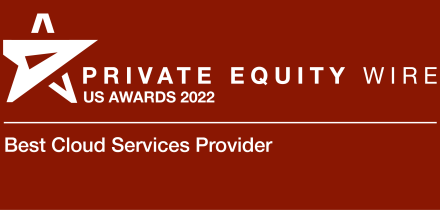 Linedata has been honored as "Best Cloud Services Provider" at the Private Equity Wire US Awards 2022 ceremony in New York on October 26.
Linedata's cloud services offerings address the digital transformation and hosting needs of private equity managers and their portfolio companies, hedge funds, family offices, and other asset management industry firms. The Best Cloud Services Provider award follows Linedata's recognition as "Best Cybersecurity Firm" at the AltCredit US Performance and Services awards in 2021.
Public and private cloud services and solutions are part of Linedata's Technology Services portfolio, which also includes cybersecurity and managed services. Linedata's offering helps firms digitally transform their operations, scale with turbulent market conditions, and comply with regulation and industry best practices around cloud technology and cybersecurity.
"Cloud adoption is a dominant trend for private equity, hedge funds and the entire buy-side industry," comments Anup Kumar, EVP and Head of Global Services at Linedata. "We act as a trusted advisor and partner in helping firms leverage cloud capabilities to deliver the necessary scalability, security, and scope to achieve their strategic objectives and operational requirements. This award recognizes the efforts of our dedicated team of technology professionals, who provide round-the-clock support for clients based on Linedata's unique blend of deep industry knowledge and technology expertise.​"