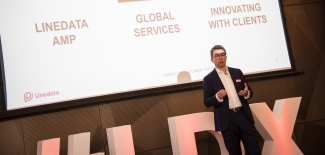 A look back on LDX London
On Thursday 6th October, Linedata gathered leading decision-makers in investment management and technology to build a comprehensive picture of what lies ahead. Opening London's Linedata Exchange, Aldric Dupaïs, Head of Linedata Asset Management, Europe, encouraged attendees to discuss how "asset management will evolve, in the short- and long-term" which set the tone for the day.
Automation, outsourcing and efficiency: A recipe for success
One of the challenges technology is helping to address is maintaining highly-skilled talent and resources. "Tech can solve this through automating manual tasks and allowing talent to use their skills," said Bob Moitoso, Head of Asset Management, North America.
Anup Kumar, EVP and Head of Global Services, raised some of the ways Linedata is putting this into action, "We launched Cognitive Investment Data Management and other digital solutions that streamlines and automates the underlying business processes in Private Markets; often done manually on excel with all the inherent inefficiencies and risks. We also launched Linedata Protect to enable 24/7 cybersecurity monitoring, to ease the pressure to stay hyper-vigilant in an ever-evolving threat landscape."
The ability to free up time and resource to allow talent to focus on value-add tasks was a theme throughout a later panel on achieving operational resilience. Panellist Mark Seaman, SVP of Business Development & Advisory Services discussed the recent uptick in outsourcing in-house operations to answer the question, "How do I get optionality out of employees?"
Outsourcing is growing in popularity, though size and business model dictates how firms may approach it differently. Mark added, "The further up the asset curve you go, the more outsourcing becomes bespoke. The larger businesses have more choice in how they build and grow their enterprise." While all panellists agreed that there is no one-size-fits-all approach for outsourcing, there are universally applicable actions that must be taken to stop outsourcing going wrong. "Investing time up front in getting the initial SLA right is absolutely key. Also, it must be a solution to a real business problem," said Jon Hunt, CTO of Lansdowne Partners.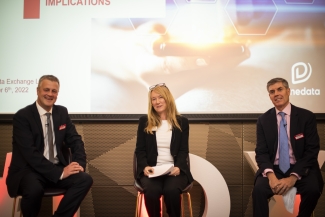 Changing times means changing regulations
Another key theme was how assets like crypto are changing the landscape. "The way we do financial services is going to dramatically change over the coming years. The rails we use will change – it could be a technology we know, or one that hasn't even been invented yet," said Jonathan Hinkley, SVP Middle Back Office Services, Global Services. Legislation is taking its time and will be complicated to lay down, but if handled right by regulators, we will see more "diversity of wealth".
Regulatory changes and the implications for the buyside was also discussed in a panel featuring Claire Curtis, CEO of Effecta, as well as Linedata's Matt Gibbs and Matt Grinnell. Claire raised concerns around how risk and resilience are impacted by geopolitical changes and how this affects regulation. She touched on topics including hybrid working, pressure on the UK to remain a financial services hub post-Brexit and interestingly, AML. "Russian sanctions have drawn into focus just how poor our recording is. People had to do manual checks to ask where Russian investors were. There is a gap growing between technical and practical compliance – your AML may be technically good but practically bad," Claire explained.
Matt Grinnell added that greenwashing is a top consideration: "72% of advisers are promoting some kind of ESG narrative, and strangely, Article 8 almost legitimises this, because firms can say they're considering green investments but don't have quantifiable metrics." He warned that there will be inbound pressure on those who hop on the bandwagon without actually changing their investment philosophy.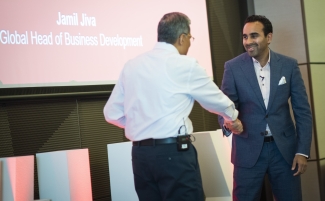 To wrap up the day, keynote speaker Rahul Singh, COO of Linedata partner, HCL Technologies, ended on the overarching theme of evolution. He encouraged attendees to consider how to create products and services for inbound generations with different expectations.
Jamil Jiva, Global Head of Business Development at Linedata then delivered closing comments to put a voice to the ongoing culture of innovation and change at the business, delivered through partnerships with MIT and INSEAD to bring start-up culture back to the enterprise, and the creation of entirely new and fast-growing business lines such as Analytics Services.
As Linedata looks forwards, these themes and considerations will be top of mind when building new innovative technology and services, and the platforms that the future of asset management will emerge upon.
Linedata Exchange (LDX) is set to travel to France in November, and New York City and Asia in early 2023 to add the narrative to this multi-layered discussion around the future of investment management technology.
We hope to see you there.