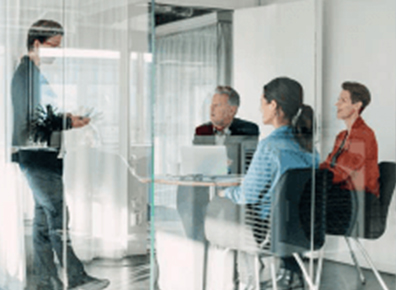 With increasing regulations and investor scrutiny, the job of a COO has become a formidable one whereby he or she is expected to fulfill many roles beyond the COO remit, such as CTO, CCO, CFO, investor relations, etc.    Given these ever increasing demands, it becomes very difficult to maintain a productive and cost effective middle-office.     Outsourcing the middle-office will not only alleviate many of the challenges faced by the COO, but will accrue to him many benefits such as:
Staff Flight Risk Mitigation: Linedata QRMO minimizes the burdens associated with having to hire, train and retain staff and mitigates disruptions caused by staff emergencies or staff leaving the firm
Fixed to Variable-Cost Model: Linedata QRMO scales upwards and downwards in periods of growth and contraction, thus giving clear visibility to the cost structure and the ability to manage it better
Focus on Generating Returns: Linedata QRMO can take care of the post-trade operational tasks, thus allowing the firm to allocate more resources and time to front-office alpha generating functions such as trading, portfolio management, research and investor relations
To help you achieve the above benefits, Linedata QRMO can provide the following professional services and have them up and running in as little as four weeks:
T+0 trade affirmation
EOD Trade file delivery to the administrator and prime brokers
T+1 cash and position reconciliation
Full investigation and resolution of breaks
Monitoring of corporate actions both voluntary and involuntary
Multiple prime broker and custodian environments supported
Monitor margin and collateral movements
Importantly, the above services can be "co-sourced" with many of Linedata's best in class systems.   Under this model, clients and Linedata QRMO work off the same underlying system in real-time, thus allowing clients to achieve results in real-time as changes and customizations are made on the fly together. Trading and post-trade operations happen on the same system while being effectively partitioned, which is consistent and effective while still allowing for proper segregation of duties.   In this "co-sourced" model, the client has even greater control compared to a purely outsourced model.  While manpower is outsourced to Linedata QRMO, clients will still enjoy a full audit trail in the shared system, thus allowing them to achieve maximum oversight of Linedata QRMO's work.    
We selected QRMO to be our middle-office provider as I had firsthand experience working with them at another asset management firm here in Sydney. I was confident that they would bring the same level of expertise and high-touch service levels that I had grown accustomed to in the past. Although our firm is still in its infancy, QRMO has not disappointed and we expect them to play an important role in our future growth
Les Andrews, COO - Aitken Investment Management