Paris, June 20, 2019 – Linedata (Euronext Paris:LIN), the global solutions and services provider to the investment management and credit finance industries, and fintech firm Loansquare, are joining forces to deliver a new 100% digital online loan platform for companies. Loansquare.com significantly modernizes the lending processes for businesses, a key element to drive development and company growth. Through the acquisition of Loansquare in January 2019, Linedata demonstrates the group's commitment to innovate in its key core areas while addressing market players' needs of digitization.
A marketplace dedicated to business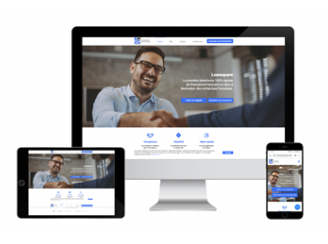 With Loansquare.com, Linedata Group brings together businesses in need of funding and professional lenders. By translating B2C best practices into B2B services, the platform digitizes and significantly accelerates lending processes.
Once eligibility has been verified, a loan application can be submitted with just a few clicks, originating a demand to every relevant credit institution, making demands and documents via multiple iterations unnecessary.
In addition to its financial broker role, Loansquare.com also delivers a complete end-to-end solution of high value-added services that support business's needs (consulting, case-preparation, covering interactions until release of funds).
Simplifying every step for stakeholders
Loansquare.com interface is fully digitized and intuitive to optimize every step, from the initial loan application to the release of funds. From the business point of view, the platform facilitates interactions and compares credit proposals, helping to choose the most relevant bank for the current financing need.
"We highly value the rate at which the financing was found, and the quality of the service done. We could focus on our day-to-day business and only come into the process at the end of the transaction. It took only one meeting with the financing institution that Loansquare found us to complete the transaction." says Damien Guermonprez, Executive Chairman of Lemon Way.
For their part, banks value the fact that the platform contributes to more fluid Interactions and the possibility to get new commercial opportunities. They can directly select the criteria that will match their investment strategy.
"Platforms take in charge the process of financing and contribute to more fluidity which leave the banks the possibility to focus on their financing strategies and support their clients in their development", says Sophie Magné, Business Innovation Market Director at Banque Populaire Rives de Paris. "The business financing sector is growing fast. Only those capable to adapt their positioning to continuously bring more values to their customer will win." concludes Thierry Maurer, Directeur du Centre d'Affaires de Paris Rive Gauche, Banque Populaire Rives de Paris.
While maintaining data security, Loansquare.com platform offers innovative solutions to minimize constraints and increase responsiveness, such as the use of electronic signature, a data room and a configurable notification system. These services significantly improve customer satisfaction, and significantly reduce operating costs.
"Financing a project is a critical step for business leaders. Through Loansquare.com, we now offer them simplified access for their loans requests", says François Lévy, co-founder of Loansquare and Senior VP Sales Lending and Leasing Europe at Linedata. "Until now, companies could not benefit from this practice for their loans while it was the case for other financial products such as foreign exchange for example".
"Linedata Group provides financial institutions and businesses with the most appropriate and innovative solutions. Therefore, it is very logical that we offer them the first 100% digital online financing platform for companies." concludes Alain Mattei, Head of Lending and Leasing Europe at Linedata.
ABOUT LINEDATA
With over 20 years' experience and more than 700 clients across 50 countries, Linedata's 1,300 employees in 20 locations deliver humanized technology, services and data solutions that empower leading asset management and credit industry firms worldwide to evolve and operate at the highest levels. Headquartered in France, Linedata achieved revenues of EUR 173.2 million in 2018 and is listed on Euronext Paris compartment B FR0004156297-LIN – Reuters LDSV.PA – Bloomberg LIN:FP.
Loansquare received the French national agreement as a financial broker "Courtier en Opérations de Banque et Services de Paiement" (COBSP) under the registration number 19002295 of the ORIAS.