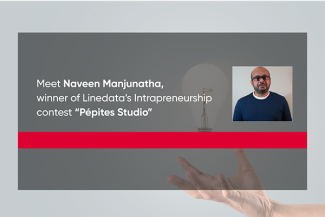 Last April, Linedata launched "Pépites Studio", an internal innovation contest, which goal is to create the next Linedata's start-ups. The "Pépite" (Golden nugget in French) is important to Linedata's growth as an incubator for its intrapreneur employees, and as a leader in new untapped markets.
Out of the 10 ideas that were shortlisted after the contest's launch, a jury consisting of business leaders and technology experts from Linedata selected Naveen Manjunatha's project, "Tokenized Finance", a lending platform for digitized assets as collaterals.
Based in Seattle, Naveen was able to develop the prototype of his platform with the support of Linedata and the help of Kuddos, a French start-up created in 2020 during the Covid-19 pandemic, which focuses on low and no code development. In the span of a year, the external provider was able to help create 12 apps for different entrepreneurs and organizations, including Airtable, Notion, and Zapier.
Fascinated by Bitcoin and Blockchain technologies, Naveen explains: "I wanted to develop a digitized asset-based SaaS lending platform for our clients where they can offer lending solutions to their customers secured by digitized assets. This platform will provide a bridge for our clients into the digitized world and help them acquire a younger generation of customers".
With the help of Linedata, Naveen was able to develop his idea in a matter of months: "Linedata management was very encouraging and supportive, providing all the necessary resources for turning my idea into product," he continues. "They also gave constant feedback about how the product can be improved."
Since the finance world has become increasingly inclined to tokenization, "Tokenized Finance" will help position Linedata as a leader in tokenized loan platforms.
Discover "Tokenized Finance"