By Ron Meyer, Senior Business Advisor for Capitalstream, Linedata
On an annual basis, Linedata conducts its Lending and Leasing Survey of North America's largest banking institutions. The intent of this survey is to identify the top trends and strategic objectives for the coming year and how they are trending for this segment of the banking industry. In 2011, we began to see a shift in the "mentality" of banking executives as they transitioned from a balance sheet focus brought about by the financial crisis to more focused. In 2012, we saw some of these same banks begin to make specific financial targets a focus, further supporting the notion, as banks increased profits. In 2012 and continuing through 2014, these targets were and still are largely focused on capital, profitability and efficiency.
What's important to note is that from 2012 to 2014, financial targets, as part of an organizations' overall strategic objectives, continued to gain importance. In 2012, Linedata's review ranked financial targets as the 7th most referenced strategic objective. This increased to 5th in 2013 and is currently ranked 2nd in our latest study. Interestingly, during this same time period, revenue growth as a strategic objective has undergone a transformation. In 2012, revenue growth focused on the bank's ability to cross-sell its products and services. In 2014, the word "revenue" has been replaced by the term "non-interest income" and so has its focus. Non-interest income includes fiduciary activities, trading, servicing and commissions. These are items that are not typically associated with cross-sale activity. As a result, we see bank's beginning to place an emphasis on partnerships with other financial services firms and each other.
Throughout this time period, we have heard time and again that banks are having difficulty increasing their profits because of historically low interest rates, and yet the investment community is demanding greater returns from banking organizations. This has created a demand in the marketspace which drives revenue transformation. Banks are looking at new ways to partner with others, in an effort to increase revenues and profits, and the more efficient banks are now starting to offer servicing and infrastructure services to their peers. This approach gives both the purchaser and seller of services substantial benefits. The seller recognizes non-interest income from the services it provides simultaneously providing the purchaser with some unique benefits, including increased efficiency and access to technology the servicer has already implemented.   When a bank struggles with or does not have the capability to provide a product or service, it has no competitive advantage in that particular area. Further, these inefficiencies make the bank struggle in the delivery of the product or service. It's a known fact that organizational efficiency has a large correlation to profitability. Having the service supported by another institution then allows the bank to build on the competencies that it already has possibly leading to a competitive advantage or at a minimum, parity. In doing so, the purchaser gets closer to achieving its own strategic objectives.
In banking, the idea of "servicing for others" has been long established. Most banks perform this service when they originate residential loans and sell them servicing retained to quasi-government entities or when they are the lead bank in a   participation or syndication. However, most think of traditional outsourcing as primarily IT focused because of favorable labor arbitrage for non-customer facing activities. In the last 26 years, outsourcing has taken on a transformation across all industries and is attained through delivery sites across the globe. Today, outsourcing is largely considered a standard for many business processes, customer and non-customer facing, including those carried out by financial institutions. Those utilizing or considering outsourcing generally prefer the use of service provider systems since they utilize some of the industry's best technologies. Many banks are exploring this optimum operating model to offer the full potential of such a win / win arrangement. For this reason, the role of a service provider has also changed. In today's environment, the servicer not only takes on the responsibility to manage the business process, but also reengineers it by applying their best practices and thereby transforming the way it is done. Transformation also results from the use of the industry's best technology which might have been too cost prohibitive for the financial institution to undertake and necessary to transform a business process on its own.   Service providers realize their success is closely aligned with that of the organizations for which they provide services. This unique alignment and philosophical change has been the largest factor fuelling year-over-year industry growth. According to a Statista 2015 report, in 2000, revenues associated with servicing initiatives were $45.6B. In 2014, this is now $104.6B representing an increase of 129%.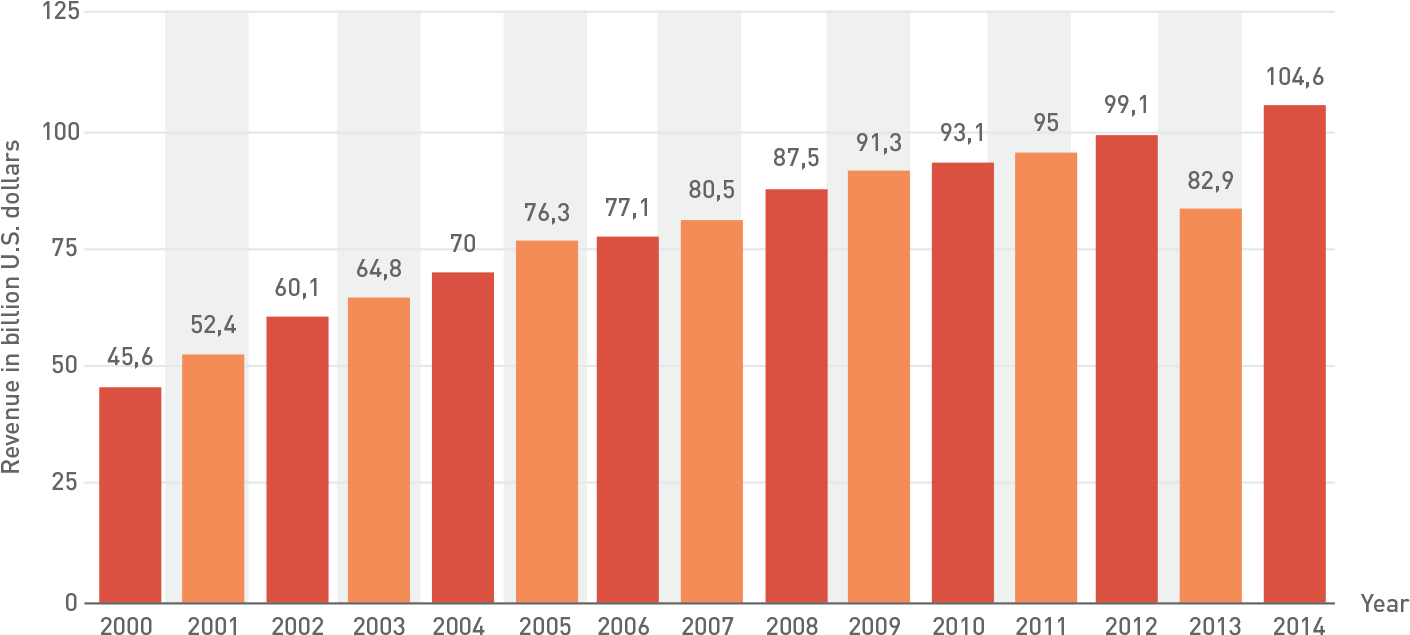 We have already explored economic drivers and a bank's need to meet financial targets which has made servicing a favorable option in generating non-interest income. Now let's look at some of the business drivers. First and foremost is the need to improve the customer experience. Aside from being incapable of offering a product or service as pointed out earlier, technologically challenged organizations often have manual processes which bridge automation gaps. This lack of automation affects the operations throughput which negatively impacts the customer experience, but at the same time, also increases the chance for errors to be made. Errors are the largest cause of customer dissatisfaction and they have both a tangible and intangible cost associated with them. The tangible cost is associated with remediation of the error and the intangible centers around the customer's likelihood to do repeat business with the bank in any capacity.
The other driver that we hear so much about is the increased burden of regulatory compliance, and in concert with economic drivers, has contributed to the recent M&A activity amongst banks. The message being sent is simple regarding newly enacted regulation; compliance has a significant cost and if a bank chooses to disregard the cost outlays needed, it places itself at an even a greater risk from a reputational and punitive perspective. To combat this risk banks are partnering with others who have the infrastructure and technology in place to ensure compliance.
Having looked at the origins of servicing on behalf of others, how much traction it has gained since 2000, and today's economic and business drivers, you are left wondering why isn't every bank doing this in a full or limited capacity? The answer rests with the right people, technology and a comprehensive understanding and undertaking of the contractual obligations of a fiduciary. 
Banks providing these services have developed a niche or specialty in a specific banking space. They are generally recognized in the industry as leaders in the service or services they provide. Part of this is due to the talent they have hired and the bench strength they continue to develop in their specialty area. Seasoned management with proven practices in a specific bank discipline make sure any exposure to operational risk resulting from process or procedure is well controlled. Furthermore, the bank will often have business subject matter experts assigned to areas where services are offered. The experts enhance the entire team's understanding of the business and often their reach extends to IT needs as well. Their knowledge from a business and IT perspective significantly enhances the overall performance of the service offering.
In doing so, they identify areas to improve, identify best practices, and help implement the best practices which improve servicing activity. In essence, they are individuals who strive for continuous improvement to ensure the service provider niche is not compromised, which in turn provides value to the organization seeking its services. Not every financial institution has the talent, knowledge or experience to be an efficient service provider in specific banking spaces.
As mentioned, systems are an important consideration. Service providers invest in systems which help them gain a competitive  advantage. This advantage allows them to offer services which are attractive to banks who otherwise would not be willing to make such an investment. More often, these systems are being updated by the servicer in a timeline much faster than those of traditional banks because they need to support the business drivers. Systems can  represent a customer-facing portal which enhances the customer experience; one specific to a particular activity such as origination or collateral management supporting regulatory compliance or general support for the servicing activity, such as a core loan or deposit application. The number of required systems is largely dependent on the servicing activity itself. Each represents an investment in technology and support personnel, but is necessary to maintain competitive advantage.
From an infrastructure standpoint, systems need to be integrated, reliable and scalable. While the need for better control has never been greater, banking continues to be plagued by disparate systems and information silos which lead to compliance implications. The need for highly integrated systems provides significant cost benefits, particularly in the area of data entry. This reduction in data entry redundancy can significantly impact the costs of a service and for this reason, many banks are considering outsourcing initiatives which afford "straight through processing". Service providers successfully utilizing straight through processing realize efficiency through reduced staffing, diminished data redundancy and integrated processes.
From a systems perspective, reliability is the ability of a system to function under expected conditions for a specified period of time. If the service providers systems are not reliable or latent, it diminishes the effectiveness of the service provider and the value of the offering. For this reason, service providers place a large emphasis on maintaining an infrastructure where system uptime is a heavy consideration. Successful service providers are able to provide system uptimes in excess of 99% and have tools to support capabilities for rolling stop, start, and restart of any system to mitigate any downtime. Furthermore, in the unlikely event a restart is needed, the architecture is such that end users (whether employees or clients) performing servicing tasks will not suffer productivity loss from having to rework a task due to a system restart. In essence, the failover is transparent to them.
Also important to note is the level of scalability that this technology combined with flexible resources affords. Service providers within the banking space utilize systems which are able to handle large volumes of work and are scalable both horizontally and vertically.
In simple terms, to scale horizontally is accomplished by adding more servers. To scale vertically is accomplished by increasing the resources of the server. Combined, these support and enhance reliability. Service providers also fully utilize resources to create immediate scalability in personnel for an organizational client when demand is high and right size resources when demand retracts. While effective allocation of resources creates efficiency, service providers also leverage shared support resources (systems, infrastructure and back-office personnel) which would otherwise be allocated 100% to their own business. In this sense, service providers are able to scale to any size operation while maximizing resources which would otherwise be idle or over-tasked dependent on demand.
The most important consideration for a servicer is the understanding and undertaking of the role as a fiduciary. In order to fulfill the contractual requirements, the assumption is the servicer already has the right people and technology. Without these, the servicer would be at risk of contractual representations and warranties which they have made as part of the servicing arrangement. Those who seek services are comforted by contractual assurance that services will be carried out in such a way that no violations of law or regulation occur and that they will be performed within a specified time period with a given level of quality [or accuracy]. However, they also realize they are ultimately held responsible for the action or inaction of the servicer. Recently, this topic has received much unfavorable press as we continue to see large settlements being negotiated by banks for oversights made by their servicers. Further, regulation also mandates the purchaser of services must have a formal vendor management program of which among other requirements is to identify and mitigate servicer shortcomings.
The role as a fiduciary means the servicer must legally act in the best interests of the purchaser. To fulfill this responsibility, the servicer must perform the activity in a way which is consistent with how it would act if it were its own clients or, as contractually specified. In some instances, contract specifications may exceed service levels provided to its own clients, so the servicer must have a way to track this and report it to the purchaser on a pre-determined frequency. In addition to any client-facing responsibilities, there are other back office activities a service provider must carry out such as onboarding, accounting, financial reporting, etc. The service provider must also have well documented policies and procedures which can be referenced to support compliance with fiduciary responsibilities. However, policies and procedures are not just related to the servicing  activity. The fiduciary responsibility extends far beyond contracted services. It also includes the banks record retention, physical and information security, disaster recovery, and ongoing operational monitoring of policies and practices. The service provider must be able to successfully test its policies and procedures and certify compliance to the satisfaction of, and in the frequency, dictated by the purchaser.
In summary, successfully providing financial services to others can be a complex undertaking. The servicer has to support both people and technology, in order to maintain the stated servicing activity while demonstrating they are acting in the best interests of the purchaser,   within the constructs of agreed upon timelines. Although the marketplace encourages this concept under certain conditions, it is imperative that the servicer and purchaser consider such an arrangement since there are non-interest income opportunities and the ability to meet or exceed customer expectations from a product or service standpoint. Properly structured, both the service provider and purchaser can realize tangible gains in an extremely demanding period of time from both an investor and customer perspective.
For more information, please contact:
Tel:
+33 (0)1 73 43 74 01