The software provider, born from an LMBO in 1997 and listed on the Paris Stock Exchange in 2000 at €17, once again published very good annual results (Ebitda +3.8%, Net Income +16% in 2020) despite a growth which is still expected (-4% organic). As part of its strategic plan, pushed back by one year to 2024, the management team, after having focused on R&D in recent years, is placing a particular emphasis on winning new clients. Interview with the founder and CEO.
Anvaraly Jiva, can you remind us of the positioning of your company compared to its competitors?
"Linedata Services is a global software and service provider dedicated to the financial sector, asset management, and credit industries. We support our clients in 50 countries - asset managers, institutional and alternative asset managers, fund administrators, and lending and leasing institutions, with innovative and powerful solutions. Among our 700 prestigious clients are Crédit Agricole CIB, Meridian, Bail Actéa (Crédit Mutuel), or First Bank. Our competitive position is unique as we combine software with services and data. Two major acquisitions in the United States and Asia in 2017 enabled us to strengthen this triple positioning. We have just signed agreements with data suppliers to feed our "Data Hub" in aggregated data enriched by artificial intelligence.
Our competitive landscape is quite complex to describe as it depends on businesses and regions. In Asset Management, the competitors are UK and US players like Sungard, Charles River, or Finastra. The Danish Simcorp is also a heavyweight, but we rarely meet these big players who mainly target very large accounts with an integrated platform where we offer a modular platform with services.
That is why it is difficult for me to give you a market share. I can only tell you that it is most significant in Asset Management in North America. As for the dynamics of our markets, the world market is expected to grow, by around 6% per year, with traditional asset management and credit markets being more dynamic than the hedge fund market. Asia, where our position is still not significant, offers great potential."
In an unprecedented context, Linedata showed excellent results despite the lack of growth this year. Is this a deliberate choice or is it characteristic of your market?
"The decrease in 2020 is mainly due to the sanitary crisis which had an impact on the non-recurring activities of the Group (21% of the revenue), such as consulting and customization of solutions. However, Linedata recorded in 2020, its first sales for its new offerings (Capitalstream, AMP, Ekip360, etc.). Our costs have been very well managed. Some costs disappeared temporarily (travel, events, etc.) and we reacted very quickly and reallocated teams to specific clients' requests and towards R&D investments to prepare for the future under the best possible conditions. Finally, our Operating Profit benefited from the extinction of amortization of R&D programs and a partly structural decline in our corporate tax rate which should remain low at around 28% following the implementation of two tax mechanisms in France (IP Box and CIR).
To circle back to your question in general, Linedata is keen to maintain a high EBITDA margin: this is the guarantee of the company's sustainability and independence. This requires controlling expenses and a great reactivity when facing unforeseen events. Regarding our lack of growth, we must recognize that our offering needed renewal. Hence our significant efforts starting in 2015 in terms of R&D, which now represents 35% of the Group's workforce, has resulted in a renewed offering. Now it's a matter of communicating about this renewed offering to our clients and prospects. The first results are encouraging, particularly in asset management where our order book was up by 20% at the end of 2020 with the deployment of 'Linedata AMP'. Linedata AMP is an innovative platform on the market that offers asset managers instant and continuous access through the cloud to the software, data, and services solutions they need to accelerate their business model transformation."
Why have you postponed the deployment of your strategic plan by one year? What are the quantified objectives at the end of this plan?
"2020 has been a special year, our employees and clients have demanded a lot of attention. 2021 is therefore the first year truly devoted to our strategic plan which is based on three key pillars, innovation, clients, and partnerships, intending to regain sustainable growth from 2021. This will require a resumption of recruitments both in integration (offshore) and in sales, with around ten open positions compared to one hundred currently. This also involves the development of partnerships to accelerate the distribution of our products on the market where we are not present yet (geographies, market segments, etc.)."
Increased cash flows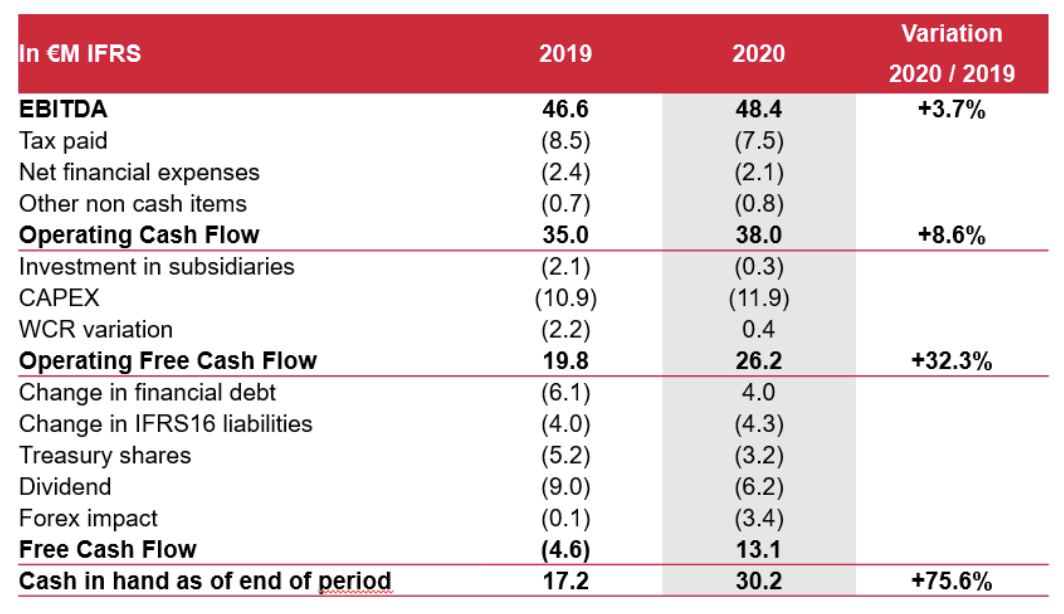 Over the past ten years or so, the return to shareholders, dividends, and share buybacks combined, have amounted to around € 20 million per year, the equivalent of the free cash flow generated by the company. Is this mode of resource allocation meant to continue?
"The dividend has the advantage of building our shareholders' loyalty. Given a net profit per share of € 3.09 in 2020 against € 2.69 in 2019, a return to the dividend of € 1.35 will be proposed at the next Shareholders' General Meeting after a year during which it had been reduced to € 0.95. The share buyback, which has totaled nearly 40% of the capital since 2008, is intended to continue if the price is not high and block trades for sale come up. While making sure to keep a significant float. "
Is being listed at the Stock Exchange important to you?
"Yes, the rigor imposed by the stock exchange listing and the notoriety it brings are important assets."
The Group's net debt level is under control at € 67 million, ie 1.5x EBITDA. Are acquisitions planned this year?
"Linedata is a group that has grown with acquisitions. However, it is clear that valuation levels are too high today in the sector. Therefore, we rely more on our internal "golden nuggets" or the acquisition of startups with the creation of new activity in the mediumterm."
Have you planned your succession? Is Linedata intended to remain family business?
"If the decision is now premature, I know that I can rely on my executive team's talents, including my son who has been with the company for 10 years. The family management handover is not inevitable."
Evolution of Linedata's stock market price over the past 20 years (monthly data)
Interview by Raphaël Girault for Zone Bourse