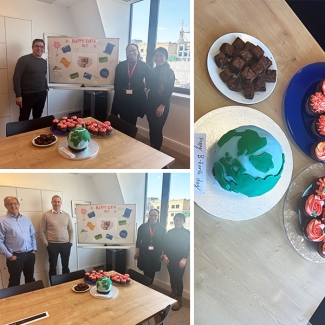 London Team Celebrates Earth Day and Promotes Sustainability
On April 20th, the London team joined people worldwide in celebrating Earth Day. The team seized the opportunity to show their commitment to making the planet a better place by organizing various activities. Employees decorated the office with speech bubbles containing fun facts and insights on the significance of this day. This activity helped to educated Linedata employees about the importance of this day and the need to be environmentally conscious. They also shared an Earth Day-related quizzed and an online word search game with the teams in Edinburgh and Ireland. Earth Day-themed cakes, cookies and cupcakes were served to add delight to the event.  
Big Clean-up in Latvia
On April 22nd, all of Latvia takes part in the "Big Clean-up" where people go outside and do their part in making Latvia a greener place. Linedata employees were encouraged to join the activity and provided information on where the bigger and smaller clean-up spots are located.