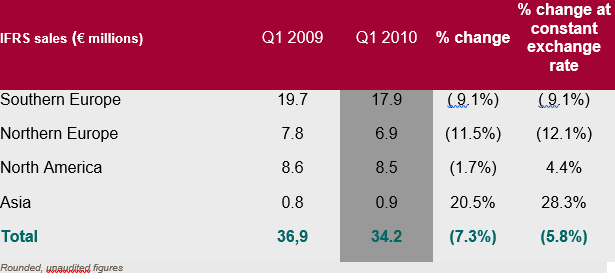 1ST QUARTER 2010 SALES DOWN 5.8% AT CONSTANT EXCHANGE RATES
As announced at the time of publication of the 2009 annual results, Linedata Services recorded a decline in sales over the 1st quarter 2010, compared to 2009.
1st quarter sales were € 34.2 million, a 5.8% decline at constant exchange rates (down 7.3% at current exchange rates, due to a € 0.5 million negative foreign exchange impact).
The size and resilience of its existing client revenue base enabled Linedata Services to limit the negative impacts of the current economic environment. There were 29 new signings over the period (of which 25 from existing customers), valued at a total of € 9.3 million.
ANALYSIS OF QUARTERLY PERFORMANCE BY GEOGRAPHIC REGION:
SOUTHERN EUROPE (Q1: € 17.9 million, down 9.1%)
Sales in this region decreased by 9.1% compared to 2009.
This decline was primarily due to the Employee Savings and Insurance division (down 15.2%). Leasing & Credit Finance reported a modest decline of 2.7%.
NORTHERN EUROPE (Q1: € 6.9 million, down 11.5%)
This region posted a significant decline in sales due to the combination of several factors. On the one hand, the UK financial services industry is awaiting significant regulatory developments, which resulted in the postponement of certain investment decisions. On the other hand, the region suffered from the negative consequences of business volume reductions and the non renewal of certain contracts in 2009.
NORTH AMERICA (Q1: € 8.5 million, down 1.7%)
On a constant exchange rate basis, sales in this region increased by 4.4% driven by good market uptake of the LongView and Linedata Compliance offerings.
The region benefited in particular from the impact in 2010 of the many recurring contracts signed during 2009, especially from Front Office customers.
Consulting recovered to some extent (up 6.2%) following the marked decline in 2009.
ASIA (Q1: € 0.9 million, up 20.5%)
With sales growth of 20.5% at current exchange rate (up 28.3% on a constant exchange rate basis), Asia continued to expand in this region where asset managers' demand for technologically innovative products is gathering momentum.
OUTLOOK
Over the first half-year of 2010, sales are expected to be slightly down compared to the same period of 2009. Against this background, the Group will continue to focus on improving profitability.
Shareholders' agenda: Linedata Services will publish its sales for the 1st half-year 2010 on 28 July after close of trading.
For further information, please contact:
Tel:
+33 (0)1 73 43 70 27
@
infofinances@linedata.com
Cap Value
Financial communication - Gilles Broquelet
Tel:
+33 (0)1 80 81 50 00