Neuilly-sur-Seine, 4 February 2015: Linedata (LIN:FP), the global solutions provider dedicated to the investment management and credit finance industries, recorded revenues of €158.0 million for the 2014 financial year, down 1.4% compared with 2013. At constant exchange rates and on a like-for-like basis, activity was down 5.3%.
In the 4th quarter of 2014, revenues totaled €42.3 million, down 1.0% (-4.9% on a like-for-like basis) compared with the 4th quarter of 2013.
Over the fiscal year, recurring activity grew in value from €109.1 million in 2013 to €111.9 million in 2014, thus increasing to 71% of revenues versus 68% in 2013.
Bookings in 2014 amounted to €54.5 million, down 13% compared with 2013. The decrease is mainly due to Employee Savings business.
PERFORMANCE BY REGION: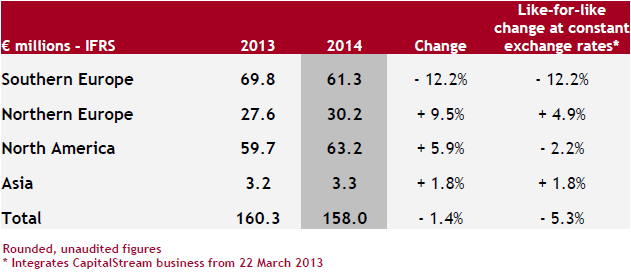 International activity was primarily driven by Northern Europe, which benefited from a favorable exchange rate effect and a generally positive trend in its sales, particularly in the United Kingdom.
North America increased slightly in absolute terms but declined on a like-for-like basis without the CapitalStream business.
Southern Europe suffered from a contraction of the Employee Savings business.
PERFORMANCE BY MARKET:

Asset Management
Hedge Funds business was well oriented, especially in Asia where many new agreements were signed. Back Office solutions got well in the United Kingdom, supported by Linedata Icon. Front Office business declined due to the late launch of major new versions of Linedata Longview and Linedata Compliance.
The Asset Management business line's total revenue was €86.3 million, up 1.1% compared with 2013 but remaining nearly stable at constant exchange rates.
Lending & Leasing
In 2014, Linedata benefited from the contribution of the CapitalStream business over a full fiscal year. However, this business was affected by the postponement of large projects and delayed signature of new agreements.
The Lending & Leasing segment's revenues were €61.0 million overall, up 8.6% compared with 2013. On a like-for-like basis and at constant exchange rates, revenues remained at the same level as in 2013.
Other activities
This market segment consists of the Employee Savings and Insurance businesses. Insurance performed well in 2014 with the installed based thanks to the roll-out of a new version of the Linedata Master I software. By contrast, as announced, Employee Savings sales fell following the departure of a large client of the Linedata NOEE solution, resulting in a negative effect of more than €8 million in 2014.
OUTLOOK:
In an environment of slightly lower activity, the Group sought to maintain increased vigilance on its operating costs and had to postpone certain R&D projects. It now expects an EBITDA margin for 2014 close to the 2013 figure.
Given the delays in order-taking at the end of the fiscal year, Linedata remains cautious about its projected activity and margins for 2015.
Next communication: Publication of the annual results for 2014, on 16 February 2015, after close of trading.
ABOUT LINEDATA
Linedata is a global solutions provider dedicated to the investment management and credit communities, with close to 1000 employees in 15 offices across the globe. Linedata has been at the service of the financial industry from day one, and applies its market and client insight to provide innovative and flexible mission-critical software and services that help its clients grow in over 50 countries. Headquartered in France, Linedata achieved revenues of EUR 158.0 million in 2014. This company is listed on Euronext Paris compartment B FR0004156297-LIN – Reuters LDSV.LN – Bloomberg LIN:FP.
For further information, please contact:
Tel:
+33 (0)1 73 43 70 27
@
infofinances@linedata.com
Cap Value
Financial communication - Gilles Broquelet
Tel:
+33 (0)1 80 81 50 00