Neuilly-sur-Seine, 6 February 2014: Linedata (LIN:FP), the global solutions provider dedicated to the investment management and credit finance industries, posted revenues of €160.3 million for the 2013 financial year, an increase of 11.3% compared with 2012. This growth was stronger at the beginning of the year. At constant exchange rates and on a like-for-like basis, revenues decreased slightly by 0.6%.
In the fourth quarter of 2013, the Group generated revenues of €42.7 million, an 8.8% increase compared with the fourth quarter of 2012. On a like-for-like basis, revenues for the quarter decreased by 5.5%.
Recurring revenues increased from €106.1 million in 2012, to €109.1 million in 2013. They decreased from 74% of revenues in 2012 to 68% in 2013, due primarily to the integration of CapitalStream.
The total order intake (excluding CapitalStream) amounted to €45.4 million in 2013, down by 7.7% compared to 2012. With CapitalStream, since its integration, annual booking totalled €61.8 million.
PERFORMANCE ANALYSIS BY REGION: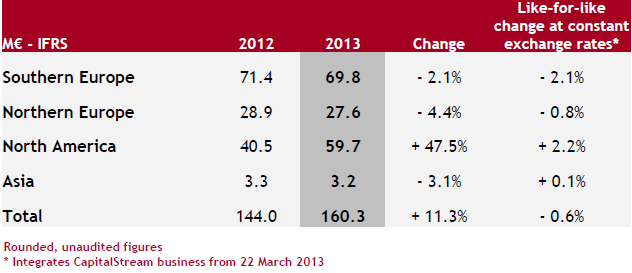 SOUTHERN EUROPE (Q1: €16.6 million, -2.5%; Q2: €20.0 million, +10.3%; Q3: €15.6 million, +0.5%; 
Q4: €17.7 million, -14.8%)
In 2013, Southern Europe recorded revenues of €69.9 million, down 2.1% compared with 2012. This decrease reflects contrasting performance across the various activities.
The Credit & Finance and Asset Management segments were stable overall for the year. The Insurance business was down sharply (-38.8% compared with 2012, giving a negative impact of €3.3 million) due to the partial disengagement of a very major client during the fiscal year. Employee Savings (+15.6% compared with 2012 giving a positive impact of €1.8 million) recorded a non-recurring increase in turnover due to exceptional reversibility work for the planned exit of a major client in 2014.
NORTHERN EUROPE (Q1: €6.5 million, +0.9%; Q2: €6.5 million, -9.3%; Q3: €6.7 million, -9.2%; 
Q4: €7.8 million, +0.1%)
For all of 2013, total revenues for Northern Europe decreased by 4.4% compared with 2012 (-0.8% at constant exchange rates). The Hedge Fund market remained difficult due to still strong pressure on prices. However, signs of improvement in the segment were perceptible, reflected by the emergence of many new projects with clients and prospects in the fourth quarter.
NORTH AMERICA (Q1: €10.4 million, +5.4%; Q2: €16.2 million, +61.6%; Q3: €16.6 million, +56.4%; 
Q4: €16.4 million, +65.5%)
North America posted a strong increase in activity (+47.5% in terms of reported figures and +2.2 percent on a like-for-like basis) in particular through the contribution of CapitalStream acquired in March 2013. The impact of this acquisition in 2013 was €19.6 million. This high-potential region has contributed more than 37% of consolidated Group turnover.
ASIA (Q1: €0.8 million, – 1.4%; Q2: €0.8 million, -4.0%; Q3: €0.8 million, -5.8%; Q4: €0.8 million, -0.8%)
In Asia, activity was constant throughout the year. At the end of the financial year, turnover was down slightly by 3.1% and up by 0.1% at constant exchange rates.
OUTLOOK:
For 2013, Linedata anticipates a higher EBITDA margin due to growth in its activity and to good cost management.
In 2014, Linedata will continue its development by enriching its service offerings and with version updates for its products that will enable it to reinforce its presence with existing clients and gain market share.
The 2014 financial year will also benefit from the full year contribution of CapitalStream, with an expected positive impact on the North American region of €5.5 million for the first quarter. Southern Europe will see a decrease in base revenues of €8.5 million for 2014 primarily due to the loss of a major Employee Savings client.
Globally in 2014, Linedata will continue its sales activity to restore continuous organic growth in the very promising Asset Management and Credit & Finance business.
Next communication: publication of 2013 results on 26 February 2014 after close of trading.
ABOUT LINEDATA
Linedata is a global solutions provider dedicated to the investment management and credit communities, with close to 1000 employees in 16 offices across the globe. Linedata has been at the service of the financial industry from day one, and applies its market and client insight to provide innovative and flexible mission-critical software and services that help its clients grow in over 50 countries. Headquartered in France, Linedata achieved revenues of EUR 160.3 million in 2013. This company is listed on Euronext Paris compartment B FR0004156297-LIN – Reuters LDSV.LN – Bloomberg LIN:FP.
For further information, please contact:
Tel:
+33 (0)1 73 43 70 27
@
infofinances@linedata.com
Cap Value
Financial communication - Gilles Broquelet
Tel:
+33 (0)1 80 81 50 00