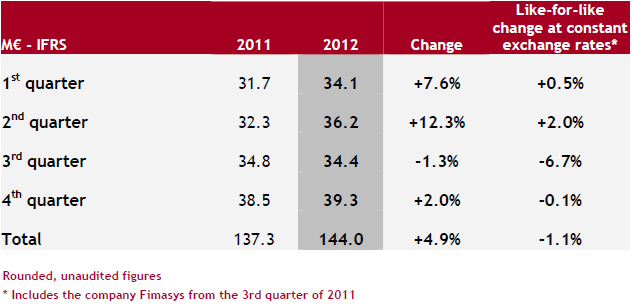 Neuilly-sur-Seine, 5 February 2013: Linedata (LIN:FP), the global solutions provider dedicated to the investment management and credit finance industries, posted revenues of €144.0M in 2012, an increase of 4.9% compared with 2011. At constant exchange rates and on a like-for-like basis, revenues decreased by 1.1%.
In the fourth quarter of 2012, revenues reached €39.3M, compared with €38.5M in 2011, representing an increase of 2.0%. Revenues were almost stable on a like-for-like basis at constant exchange rates.
Recurring revenues increased by €8.4M to reach €106.1M over the year, representing 74% of total revenues.
For the full year, new bookings were stable at approximately €49M.
PERFORMANCE BREAKDOWN BY GEOGRAPHICAL AREA:
SOUTHERN EUROPE (Q1: €17.0M, +9.1%; Q2: €18.2M, +9.9%; Q3: €15.5M, -9.1%; Q4: €20.7M, +1.4%)
Sales in Southern Europe were up 2.6% compared with 2011 due to the favourable impact of Credit Finance business revenues (+€3.0M over the year). The latter benefited in particular from the contribution from Fimasys throughout the full year (+€2.8M).
NORTHERN EUROPE (Q1: €6.5M, -0.6%; Q2: €7.2M, +9.8%; Q3: €7.4M, +9.2%; Q4: €7.8M, +7.5%)
Northern Europe performed well in 2012 with an increase of 6.5% in its revenues compared with 2011. Growth was sustained by recurring revenues from maintenance, monthly licences and ASP and reached +0.8% at constant exchange rates.
NORTH AMERICA (Q1: €9.9M, +13.2%; Q2: €10.0M, +18.1%; Q3: €10.6M, +3.7%; Q4: €9.9M, -0.3%)
In North America, revenues for 2012 were up 8.1%, benefiting from favourable exchange rate movements between the dollar and the euro. At constant exchange rates, sales were stable.
ASIA (Q1: €0.8M, -11.8%; Q2: €0.9M, +20.1%; Q3: €0.9M, +13.7%; Q4: €0.8M, -5.4%)

In Asia, revenues were up 3.1% compared with 2011 in terms of reported figures (-5.7% at constant exchange rates). The region continued to grow in terms of ASP with the signing of five new contracts.
Outlook:
Due to the growth of its revenues, Linedata anticipates an increase of EBITDA for 2012.
For the 2013 financial year, despite ever-unpredictable market conditions, the Group remains confident thanks to the quality of its offering, its dynamic installed base and the high level of its backlog.
Next communication: Publication of 2012 annual results on 28 February 2013 after close of trading.
For further information, please contact:
Tel:
+33 (0)1 73 43 70 27
@
infofinances@linedata.com
Cap Value
Financial communication - Gilles Broquelet
Tel:
+33 (0)1 80 81 50 00