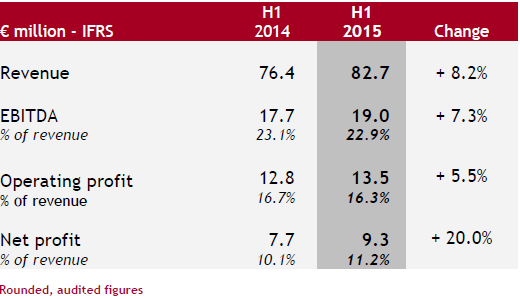 Neuilly-sur-Seine, 15 September 2015: Linedata (LIN:FP), the global solutions provider to the investment management and lending and leasing industries, improved its results for the 1st half of 2015. The EBITDA and net profit rose by 7.3% and 20.0% respectively.
The Group reported revenues of €82.7 million for the first half of 2015, up 8.2% compared with the 1st half of 2014. At constant exchange rates, revenues fell by 2.9%
Since the start of the financial year, Linedata has maintained a sustained R&D effort in response to new market requirements and to strengthen its technological leadership.
The steady increase in offshore outsourcing over several years (internal or via strategic partnerships) has helped increase the amount of production days without compromising the operating margin.
The Group has also continued to strengthen its sales team around the world to sustain future growth.
ANALYSIS OF EBITDA MARGIN BY SEGMENT:
By segment, EBITDA margin breaks down as follows:
In a dynamic market environment (increase in assets under management, launching of new funds, etc.), the Asset Management business has showed good momentum since the start of the financial year with revenues up by €8.5 million in the first half. EBITDA is therefore up substantially at €12.8 million, that is a margin of 25.8%.
Conversely, the "Lending & Leasing" business reported a decrease in its revenue, due to the delayed signing of new contracts and postponement of certain projects, announced at the end of 2014. The decline in perpetual licenses, combined with the increase in certain operating expenses, had a negative impact on the EBITDA margin which is at 14.7% versus 27.4% in the 1st half of 2014.
"Other Activities", consisting primarily of the Insurance business segment, achieved revenues of €4 million and reported a significant rise in the EBITDA margin, following the adjustment in operating expenses to an expense structure that excludes Employee Savings.
Overall, the Linedata EBITDA is €19 million, up by 7.3%.
INCREASE IN NET PROFIT
After deduction of net depreciation expenses of €5.5 million, the operating profit reached €13.5 million, up by 5.5% compared with 30 June 2014.
The financial result reported a positive amount of €0.3 million due to favourable exchange rates.
After an income tax expense of €4.5 million, the net profit reached €9.3 million, that is a considerable increase of 20% compared with the 1st half of 2014.
FINANCIAL STRUCTURE
Equity amounted to €112.5 million at 30 June 2015, up by €11 million compared with the end of 2014.
Net debt has fallen sharply to €27.2 million versus €40.8 million at 31 December 2014.
OUTLOOK
Encouraged by the rise in orders in the first half of 2015 (+22.6% compared with the first half of 2014) and exchange rates impact, the Group is expecting to see further growth in its revenues for the remainder of the financial year. It can therefore rely on the positive outlook of its Asset Management business and the expected upturn in its Lending & Leasing business.
Next communication: Publication of revenue for the third quarter of 2015, on 26 October 2015 after close of trading.
ABOUT LINEDATA
Linedata is a global solutions provider dedicated to the investment management and credit communities, with close to 1000 employees in 16 offices across the globe. Linedata has been at the service of the financial industry from day one, and applies its market and client insight to provide innovative and flexible mission-critical software and services that help its clients grow in over 50 countries. Headquartered in France, Linedata achieved revenues of EUR 158.0 million in 2014. This company is listed on Euronext Paris compartment B FR0004156297-LIN – Reuters LDSV.LN – Bloomberg LIN:FP.
For further information, please contact:
Tel:
+33 (0)1 73 43 70 27
@
infofinances@linedata.com
Cap Value
Financial communication - Gilles Broquelet
Tel:
+33 (0)1 80 81 50 00