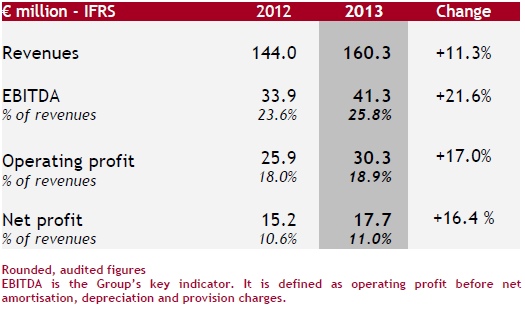 Neuilly-sur-Seine, 26 February 2014: Linedata (LIN: FP), the global solutions provider dedicated to the investment management and credit finance industries, posted significant profit growth in 2013.
Business was buoyed by the performance of the Credit & Finance segment, strengthened over the course of the year by the strategic acquisition of CapitalStream in North America. The downturn in the Asset Management businesses and difficulties encountered with the Savings & Insurance segment prevented the Group from confirming the renewed organic growth trend observed in the first half of the year.
In a market that is still uncertain, Linedata achieved particularly high levels of profitability with an EBITDA margin of over 25%.
ANALYSIS OF EBITDA MARGIN BY REGION:
By region, EBITDA breaks down as follows:
In Southern Europe,margin increased by 4.5 percentage points compared to 2012. However, EBITDA includes a special non-recurring contribution from the Employee Savings segment.
The Northern Europe region was able to improve its margin through careful management of costs and greater recourse to our offshore development and support centres.
In North America, the EBITDA margin was maintained at the same level within the existing business lines, excluding CapitalStream. The profitability of CapitalStream was reduced in 2013 by acquisition costs and the introduction of Linedata's revenue recognition policy for perpetual licenses, whereby such revenue is not recognised upon contract signing but as projects progress.
Overall, the Group's EBITDA was €41.3 million, up 21.6% compared to 2012. This represents 25.8% of revenue, that is an increase of 2.2 percentage points compared to the previous financial year.
INCREASE IN PROFITABILITY LEVELS
Operating profit was €30.3 million in 2013, up 17.0% over 2012. Operating margin was up 0.9 of a percentage point to 18.9%.
After taking on an additional debt of €35 million in March 2013 to finance external growth, the net financial expense was €(3.8) million compared to €(1.9) million in 2012.
Net profit came to €17.7 million in 2013, up 16.4% compared to 2012.
The earnings per share rose from €1.70 in 2012 to €2.35 in 2013, i.e. an increase of 38%.
FINANCIAL STRUCTURE
Equity capital was €93.3 million at 31 December 2013, up 9.9% compared to 2012. Net debt stood at €40.9 million at the end of 2013, representing a little less than the 2013 EBITDA.
DIVIDEND
At the next General Meeting, shareholders will be offered a dividend of €0.65 per share, up 18.2% compared to the previous financial year.
OUTLOOK
Backlog stands at €113.6 million, up 5.5% compared to the same period in 2013. However, sales activity at the beginning of the year was down compared to the Group's expectations.
The Group will continue its strategy of offering global solutions in two strategic market verticals. Sustained investments in R&D will continue to strengthen the success of comprehensive front-to-back offerings for both Credit & Finance and for Asset Management.
This will mean increased investments in sales and higher CAPEX in 2014 to relaunch the organic growth that Linedata is now forecasting for 2015.
Next communication: publication of revenues for the 1st quarter of 2014, on 24 April 2014 after close of trading.
ABOUT LINEDATA
Linedata is a global solutions provider dedicated to the investment management and credit communities, with close to 1000 employees in 16 offices across the globe. Linedata has been at the service of the financial industry from day one, and applies its market and client insight to provide innovative and flexible mission-critical software and services that help its clients grow in over 50 countries. Headquartered in France, Linedata achieved revenues of EUR 160.3 million in 2013. This company is listed on Euronext Paris compartment B FR0004156297-LIN – Reuters LDSV.LN – Bloomberg LIN:FP.
For further information, please contact:
Tel:
+33 (0)1 73 43 70 27
@
infofinances@linedata.com
Cap Value
Financial communication - Gilles Broquelet
Tel:
+33 (0)1 80 81 50 00