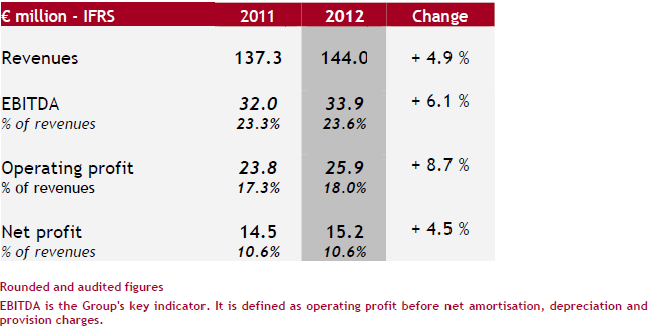 Neuilly-sur-Seine, 28 February 2013: Linedata (LIN: FP), the global solutions provider dedicated to the investment management and credit community, again recorded profit growth in 2012.
Growth in business along with effective cost control means the Group's EBITDA rose by 6.1%. This figure comes out at €33.9 million, i.e. 23.6% of revenues.
The successful integration of Fimasys, in particular bringing all staff together at the Arcueil site and the initial synergies generated, resulted in a contribution of €8 million to consolidated revenues for the full year. There was also an increase in the profitability of this business, taking it up to a level close to Group average.
Analysis of EBITDA margin by region:
By region, EBITDA breaks down as follows:
In Southern Europe, growth in EBIDTA margin, which includes the cost of integrating Fimasys, is explained by good performance in the Credit Finance and Back Office businesses.
Northern Europe recorded a rise of 2.2 points in EBITDA margin thanks to effective cost management and greater contribution of recurring revenues.
In North America, EBITDA margin remained satisfactory. There was a slight fall due to greater investment in R&D for the Linedata Longview product.
The Group continued to invest in managerial staff in Asia, which led to a fall in EBITDA, though this was not significant at Group level.
Net profit on the rise
Operating profit came out at €25.9 million, showing an increase of 8.7% compared to 2011. Operating margin was up 0.7 points to 18%.
Net profit, which took into account net financial expense of €1.9 million, came out at €15.2 million, up 4.5% compared to 2011.
Net profit per share increased by 25% to €1.70, compared to €1.36 in 2011, as a result both of growth in net profit and of a reduction in capital after the share buyback offer.
Financial structure
Analysis of the Linedata balance sheet on 31 December 2012 must take into consideration the effect of reduced capital after the share buyback offer which took place in June 2012. Shareholder equity came out at €84.9 million, versus €118.3 million in 2011. Total financial debt came to €49.5 million, compared to €21.6 million in 2011. This most notably includes the outstanding balance of the new senior debt facility required to finance the share buyback offer.
Including cash and cash equivalents worth €17.7 million on the balance sheet, net debt stood at €31.8 million. This is less than 2012 EBITDA.
Dividend: 
At the next General Meeting, shareholders will be offered a dividend of €0.55 per share, up 10% on the previous financial year.
Outlook
The recent acquisition of CapitalStream will help Linedata strengthen its position in North America, and thus speed up its international expansion.
Over 2013, Linedata will pursue business development on its strategic markets, while maintaining strong profitability.
Next communication: publication of revenues for the 1st quarter 2013 on May 14, 2013 after closing of trading.
ABOUT LINEDATA
Linedata is a global solutions provider with 700 clients operating in 50 countries. With more than 900 employees across the globe, Linedata is dedicated to the investment management and credit community. Linedata has been at the service of the financial industry from day one, and applies its market and client insight to provide innovative and tailored mission-critical software and services that help its clients grow. As a pioneer for over 10 years with the set-up of SaaS infrastructure for the financial industry, Linedata has preached and spread this model throughout the global financial community, for its full range of products. Headquartered in France, Linedata achieved revenues of EUR 144 million in 2012. This company is listed on Euronext Paris FR0004156297-LIN – Reuters LDSV.LN – Bloomberg LIN:FP.
For further information, please contact:
Tel:
+33 (0)1 73 43 70 27
@
infofinances@linedata.com
Cap Value
Financial communication - Gilles Broquelet
Tel:
+33 (0)1 80 81 50 00